Welcome to Srishti Green Decor!
We curate handcrafted, eco-friendly planters and home decor at pocket-friendly prices!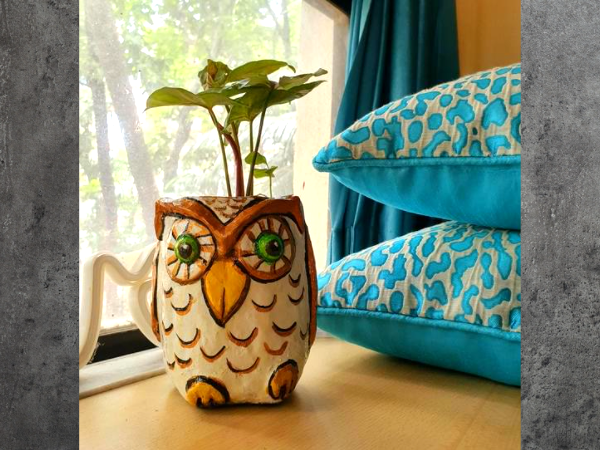 Srishti is a word of Sanskrit origin, and refers to nature's creation. As a company, we have been creating art and various home decor products since years, on a personal level. Even though our green journey started eons ago, we now feel that our eco-friendly products should reach your homes. We believe that we can make a difference by making sustainable pots and planters, while also promoting ethnic handcrafted art forms of our country. 
 Creating aesthetic and functional products is not enough for us. Through Srishti, our vision is to propagate our customers to use sustainable products only. That way, you won't just be contributing to the reduction of carbon footprints in the world, but you will also feel good about doing so. Our humble initiative is to blend green substitutes with creativity to make garden and home decor products, ornaments, artefacts and gifting items.
We team up with several women artisans from across Maharashtra, and build a safe and creative community for them, wherein they can create art. We also provide skill development training sessions through workshops and classes for them, so that they can assist us in making our eco-friendly pots and planters. The goal is to generate employment opportunities, and enable them to become economically stable and independent. 
Our country holds a rich heritage of tribal and folk art. At Srishti, we value the traditions of the ethnic art forms, and showcase it through our paintings on the sustainable pots and planters. The idea is to preserve and promote the cultures of the country, one planter at a time. 
"This is to appreciate and endorse the service rendered to me by Sudipta Chattoraj of Srishti Green Decor towards the beautification of our home garden & office cabin. I would surely recommend Srishti Green Decor & would strongly suggest everyone to utilize their services".
Director – New Mumbai Realty
"Sudipta's Eco-friendly art work helped us contribute towards a clean ecology. I wish she expands her activities and helps all of us to keep mother Earth green & Eco friendly".
Managing Director – Prayas Health & Homeo Clinic
"We appreciate Srishti Green Decor's service towards V2 Tech Ventures. They beautified our office cabins. We have been impressed by their creative thinking which is aligned towards creating a greener ecosystem".
"We are pleased to note our satisfaction with the standard of service offered to us by the qualified and efficient team of Srishti Green Decor, owned by Sudipta Chattoraj. This is a company with high integrity & strong traditional values focusing on providing the utmost level of customer satisfaction. Sudipta has shown how passionate she is about her work and has delivered a high level of professional service".
Managing Director – Balaji Travels & Tours
Interested? Shop this planter collection!